In the past, people tend to go to the market every day so they do not need to worry about food storage. However, in the modern life, people are getting busier and busier with earning for living and daily job so they often have to buy available food to store in the refrigerator or freezer. Many foods are fresh and delicious at the beginning but after storing in the freezer or refrigerator, the taste will be changed and not delicious anymore.
In this case, if you have a best vacuum sealer for home, it would be great, isn't it?
In this topic, I will share you 2 vacuum sealer machines that I have bought. If anyone has bought and used the vacuum sealer machine, please share your experience, too.
There are many types of vacuum sealer but it can temporarily be classified into three main types including handy vacuum sealer, manual vacuum sealer and automatic vacuum sealer.
Handy vacuum sealer
This machine is very compact and the price is also cheaper than other handy machines. Although this kind of vacuum sealer is cheap and convenience, it also has some disadvantages such as it only works with some manufactured types of bag and box and it can not vacuum and seal all kinds of bag and box like other handy machines.
There are many different styles and shapes of this type. However, it has some common characteristics such as compact, not heavy, ease to use… It can be hold in your hands and used for taking the air out of the manufactured vacuum bags. These manufactured vacuum bags are designed to have a special button. This button will connect to the vacuum sealer machine and vacuum the air out. When you finish this step, the button will automatically keep the outside air not reaching inside of the bag.
Manual vacuum sealer
This machine usually be placed in the table and it has larger size than handy vacuum sealer. This type has 2 main functions including vacuum and seal. However, the users have to press the button power to vacuum the air out of the bag and seal the bag. The price of this type is generally more expensive than handy vacuum sealer but it is cheaper than automatic vacuum sealer.
There are many types of manual vacuum sealer and most machines are very good to use. But not all kinds are absolutely good as advertisement. Therefore, you should spend a little time to search for technique information to avoid buying the wrong machines.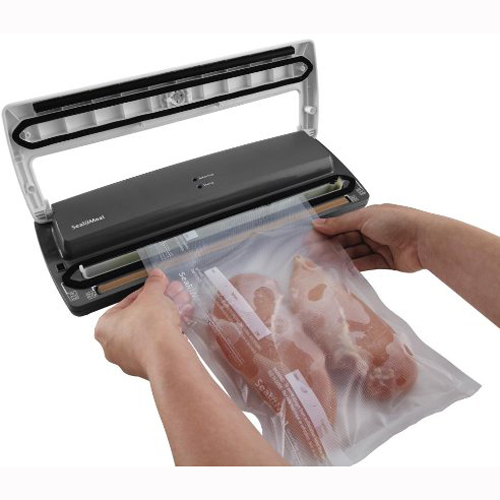 A long time ago, I did not take time to learn about vacuum sealer machines as I thought that all types are the same usages, just only difference of manual and automatic function. Therefore, a few years ago, when I saw an advertisement about vacuum sealer machine – Freshlock Deni brand, it looked very compact and the price was not too expensive, I bought one immediately. This type is wire vacuum sealer machine with only manual vacuum function and manual seal function. However after using for a certain time, it is not good as I though.
I will tell you what happen with this machine in the part 2 of the topic. I have had some experience to buy a vacuum sealer after suffering this case and I always take a little time to search for information before making any decision. Moreover, in part 2 of this topic, I will share to you one more type of vacuum sealer machine and it is automatic vacuum sealer machine.